Free Shipping on Orders $55+ After Promos
How to Host a Jigsaw Puzzle Competition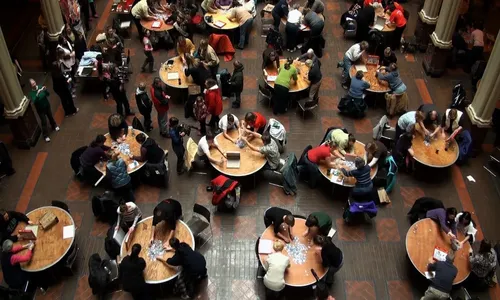 Have you ever thought about hosting a jigsaw puzzle competition in your town? A puzzle competition can be great event used to host a fundraising event or simply just to bring your community together for some fun. If you're wondering what a jigsaw puzzle competition is and what tools you need to hold one of your own, look no further! We've got some useful information and hosting tips for you right here.
What is a Jigsaw Puzzle Competition, Exactly?
A jigsaw puzzle competition typically consists of individuals and teams that compete against one another putting a puzzle together. Whoever completes their puzzle first wins! Typically, these events include multiple rounds to determine the ultimate winner, but however, you choose to set up the competition is up to you. Here is a breakdown of the basics:
Each team receives the same puzzle
No one gets to see the puzzle until the timer begins – the puzzle boxes are placed face down before the competition starts
Individuals or teams try to put the puzzle together the fastest
Rounds are a specified amount of time; if there is no declared winner by the end of the time limit, the winner is chosen by their remaining number of loose pieces
In the event of a tie, individuals or teams can be given an additional five minutes to work on the puzzle
There are no devices or outside assistance permitted while working on a puzzle
Two moderators help with the event – one to handle the timer and completion times, and another to observe and ensure that competitors are abiding by the rules
Individuals and teams are not allowed to distract or approach team tables when the competition is in progress
If opting for multiple rounds, progress by piece count with the top puzzlers proceeding to the next round
What You'll Need to Host a Competition of Your Own
Some planning and organization will be required for your event to take place. You'll need to determine where you will host the event and how to make people aware of your event, too!
A Venue
A venue is a must for your event, especially if you're expecting a large turnout. Research areas in your city that offer rental space for events. Click here to find event spaces near you.
Tables and Chairs
Some venues may include this with their rental space. If they do not, you will need to consider renting tables and chairs for the event. Competitions tables should all be the same size. Find table rental locations near you.
Puzzles
The most needed item for your event are puzzles, of course! You will need to determine how many puzzles you will need. How many individuals or teams do you plan to have participate in your competition? Remember, all the jigsaw puzzles for each round must be the same for each participant so that it is a fair challenge. You certainly could purchase all the puzzles, but there are likely many puzzle companies or local stores in your area that would be happy to donate or discount puzzles for your event if you list them as a sponsor.
Moderators
You will need two moderators to help observe and record events. This is an important role, as they will be ensuring that competition rules are being followed, answering any questions participants have, timing the rounds, recording finish times, and more!
Prizes
Prizes for the winning individual or team along with 2nd and 3rd place winners are a great thing to have. Reach out to local businesses for sponsorship and donations. This way, you won't have to foot the bill on the prizes – unless you want to, of course!
Participants
For any competitions success, you need participants! Advertise your event with the community – create flyers, post on social media, and advertise in your local paper. Make the community aware of your event! You will also need to create a registration process to track your number of participants to ensure you will have enough space for everyone at the competition. You can charge for registration or it can be completely free!
GET OUR NEWSLETTER TO LEARN ABOUT OUR
NEWEST PUZZLES & EXCLUSIVE OFFERS!