Free Shipping on Orders $55+ After Promos
Puzzles to Remember
We Thank Max
The idea for Puzzles to Remember came from then-12-year-old Max Wallack. In caring for his Great Grams, he noticed a change in her demeanor. Piecing together certain jigsaw puzzles seemed to calm her and give her a sense of achievement. These "certain" jigsaw puzzles were, in fact, children's puzzles.
Naturally, he started Puzzles to Remember a 501(c)3 organization that provides puzzles to nursing homes, veterans facilities, and other facilities that care for Alzheimer's and dementia patients.
The children's puzzles he was distributing had large puzzle pieces and a conservative number of them to join together, but the artwork–cartoons and such–wasn't fitting.
So in 2012, he contacted Springbok.
With Max's vision, together we created easy-to-handle puzzles with themes of nature and nostalgia. From there, this unique line of puzzles grew as did Max.
He went on to publish the picture book "Why Did Grandma Put Her Underwear in the Refrigerator?" to help children understand the impact of Alzheimer's and dementia on their loved ones. After graduating high school early, he continued his education at Columbia. He now has a Ph.D. in neuroscience from Harvard Medical School. Due to the increase of brain-related diseases such as Alzheimer's and dementia each year, Springbok has been devoted to increasing their line of jigsaw puzzles crafted specifically for those with memory and dexterity issues.
Designed from the heart. Made for the mind.
This special line of jigsaws is the first to be designed specifically for the needs of Alzheimer's and dementia patients. It's a rare, versatile activity for individuals or fosters quality time with a caregiver.
Here's an overview of the unique features:
Extra large puzzle pieces for easy grip, measure 3-4.5"
Therapeutic activity that stimulates both sides of the brain
Discreet packaging with no reference to Alzheimer's or dementia
Nostalgic and colorful images to inspire recollections and conversation
Brings joy and independence in completing a task
Piece by piece, puzzling stimulates both sides of the brain, promotes improved dexterity, exercises memory, and relieves anxieties. Choose from a selection of nostalgic scenes that prompt reminiscing and fond memories. Distinct, bright colors and details mark extra-large pieces to make sorting a pleasurable, leisurely task. These Alzheimer's puzzles are the same overall size (23.5" x 18") as our 350-500 piece puzzles but the actual piece count is 36, 60, or 100, making the pieces very easy to handle and place.
Every perfect fit is rewarded with a release of dopamine. Dopamine is known as the feel-good neurotransmitter—a chemical that boosts mood, motivation, and attention.
The result is a brightened spirit and old-fashioned, biochemical encouragement.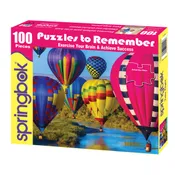 Take Flight
100 Piece Puzzle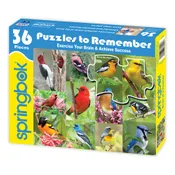 Birds of a Feather
36 Piece Puzzle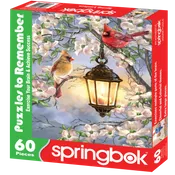 Spring Lantern
60 Piece Puzzle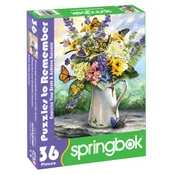 Butterfly Blossom
36 Piece Puzzle
Springbok puzzles prioritize sustainability and quality, utilizing recycled materials and soy-based inks. These materials minimize environmental impact, while the biodegradable soy-based inks reduce harmful chemical emissions. Springbok proudly embraces American-made manufacturing, fostering local economy and upholding stringent quality control and ethical labor practices.
Why Choose Puzzles to Remember?
Slow the progression. . . Current brain research reveals that mental exercises, like jigsaw puzzles, can help slow the progression of Alzheimer's disease. Our puzzles are specifically tailored to provide the right level of challenge, ensuring a positive and beneficial experience for patients.
Engage the mind. . . Jigsaw puzzles have proven to be an excellent mental exercise for Alzheimer's patients. Our puzzles are carefully curated with nostalgic and cheerful themes that evoke positive memories, providing gentle stimulation and fostering a sense of accomplishment.
Improve quality of life. . . Traditional jigsaw puzzles can often be too difficult for advanced Alzheimer's patients, leading to frustration and agitation. Our puzzles feature larger, more manageable pieces—36, 60, or 100 pieces—that are easier for Alzheimer's patients to handle and manipulate.
Treat with dignity. . . A Puzzles to Remember jigsaw gives recipients dignity by offering them a purposeful and engaging activity that respects their abilities, preserves their memories, promotes social interaction, fosters a sense of independence, and encourages personal accomplishment. Our line is discreetly packaged with no reference to dementia or Alzheimer's.
Don't Take Our Word For It. . .
"Client was slow to begin, but with some success she continued and did finish it. Much pleasure in her own participation. Recommend it for Alzhiemer patients, due to its brightness and rather low challenge." - Caregiver, 5-Star review for Birds of a Feather 36 Piece
"My mother loves this puzzle. She is 89 years old with Alzheimer and arthritis. The puzzle is enough of a challenge without being too difficult. The piece size are easy for her to pick up. She loves the colors and the scene. She has done this puzzle over 100 times and the pieces have held up well." William, 5-Star review for Mountain View Chapel 36 Piece
"My father in his hay day would put together 1000 piece puzzles. He loved them! Now at age 92 with the onset of dementia, these hold his attention and are a bit of a challenge but he stays at them. Today he did three puzzles in a row with a little assistance sorting the straight edge pieces, but then he filled in the rest. Kept him occupied for a couple of hours and gave him a sense of accomplishment. Thank you for making these puzzles!" - Debra, 5-Star review for Summer Creek 36 Piece
"My 92 yr old mother suffers from dementia and failing eyesight. She loves the old scenes (especially those with contrasting colors) and the bigger pieces allow her to still build the puzzle on her own." - Mary, 5-Star review for Eiffel Magic 36 Piece
"We absolutely love this puzzle! Perfect for Alzheimers patient. The colors are bright, the pictures are beautiful, the pieces are big and sturdy! Thank you! Please make more of these!!" - Elise, 5-Star review for Songbirds 100 Piece
"I have purchased several of these puzzles for my father, who is 96. He does not have dementia, but we both enjoy putting them together. We love the quality of your puzzles. He likes the 100 piece puzzles, which we do together. The 36 piece puzzles he also does on his own. We would love to see a barn puzzle, or even a series of barns!!!" - Anonymous, 5-Star review for Spring Wedding 100 Piece
GET OUR NEWSLETTER TO LEARN ABOUT OUR
NEWEST PUZZLES & EXCLUSIVE OFFERS!